When you get a new car, you want to add something personal, that will upgrade the whole appearance of your vehicle. That can be a personal registration plate, custom lighting, or sit covers, everything that is good for you.
You don't need to spend too much money to personalize your vehicle, because a few details will make a big difference and your car will be easily recognizable. Never mind if you bought used or a new car, it's normal to add a few details that will make it look better and more personal.
Here are a few easy ways to do that:
1. Replace the floor mats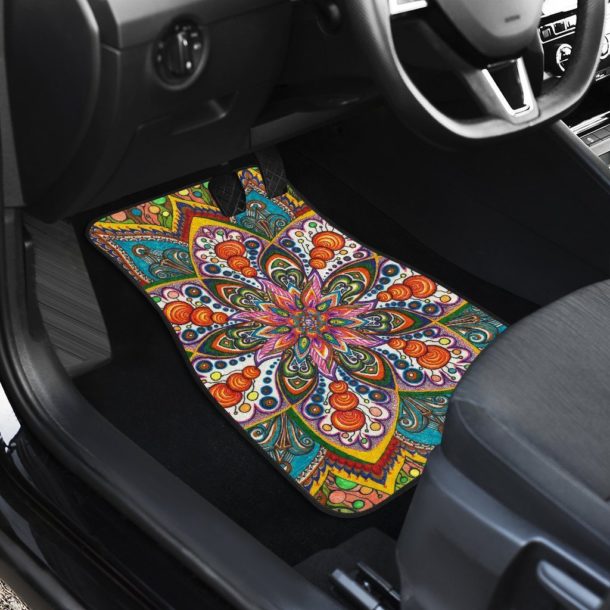 If you want to make a fresh and inexpensive change, replace the old floor mats. You can find a lot of interesting designs, but their primary role is to protect the car carpet from damages that may be caused by wet shoes.
2. New seat covers
Some cars have good seat covers, but if you want to personalize it, you can order custom covers online. Also, you can buy the design that you think will look great in your car, and everyone who travels with you will remember them for a lifetime.
3. Repaint the shell
If you don't like the color, you can always repaint it. Some colors are cheaper than others. You only need to choose the right service, so you can get high-quality paint and brushing. Also, you can paint different shapes and patterns to your car, you only need to be brave enough and creative to do that.
4. Place some stickers
It's legal to add stickers on the car surface, as long as they don't cover the registration plate and the lights and you can see the road clearly. Many girls add eyelashes to the lights, for example. Choose what you like, it can be your favorite show or something personal to you. As we said, you can stick whatever you want, as long as it doesn't cover the plates and windows.
5. Window shades
The window shades will stop the sunlight to warm up the car interior. You can choose between different colors and patterns. Find your favorite and put it on the windows, so they can protect the car from the heat.
6. Personal registration plates
This is a great way to personalize your car and improve its general appearance. You can sign for personal number plates in your local license office, or you can find them online, using the trusted online sellers. You only need to follow the laws in your country. Look for the best private registrations on number1plates.com, and choose between the 50 million of combinations available. Private number plates are a form of high-level car personalization, that can be pretty expensive if you choose a rare plate.
7. Unique wheels
You have many options on the Internet and you can choose between a lot of different colors, patterns, and materials, to personalize and customize the wheels. Just be patient and you will find the best ones for you.
8. Body changes
You can put bumpers and spoilers that will make your car look better and more personal. But, don't spend too much money, because it only provides more aesthetics to the whole car look. But one thing is for sure. If you choose the changes wisely, your car will look stylish and will attract a lot of attention on the roads.
9. Add interior lights
You can install interior lights that will illuminate the car from the inside. Since you should be respectful of the laws with your outside lighting, inside, you can do anything you want, as long as it doesn't mess your vision. And your car will look stylish and premium. You should avoid neon lights and consider installing LED strips.
10. Wax the surface
It's wonderful how waxing can make a big difference. Your car will look shiny and it will remove the scratches. Also, it has another great advantage. The waxing process will help the paint to last longer. You can buy a wax kit to do it by yourself, or you can take it to the nearest service.
11. Wraps instead of paints
This is one of the most popular and coolest ways to personalize the car. Just choose the wrap design and be careful not to cover the important elements. Don't apply it to the windows. The best is that you can peel them off and get back to the original color anytime you want. So, if you don't want to spend too much money on repainting, you can always wrap the vehicle.
12. Car accessories
You can personalize your car by changing and replacing small parts, such as the pedals, the doorknobs, and so on. Add a stylish air freshener or put a cover to your steering wheel. There are plenty of changes that won't cost you too much but will give unique customization to your vehicle.
13. "Pimp" your car and drive
If we are honest, the personalization gives a unique feeling while driving. It doesn't improve the mechanical performance of your car, but it makes you feel better while you drive. You only need to plan these upgrades carefully, so you won't make your car look silly. You can always ask an expert that will advise you better than any friend or Internet forum. For example, the laws in your country may not allow you windows tinting, and you should be sure about that before you take a step. Some changes can make the warranty expire earlier, and you should be aware of that before you do anything to your vehicle. After you have all the necessary information, you can make all of the upgrades and changes and hit the road.
This is a shortlist of some of the possible changes that will upgrade your auto appearance. You can make even the old car look stylish using some of these tips and tricks. Just find the one that is most appropriate for you and stick to your budget, so you don't have unnecessary spending during the process of customization.