2015 Jeep Renegade will be the first Jeep crossover SUV produced outside United States. It will be made in Italy in Fiat factory in Melfi. It is going to be based on the same platform as Fiat 500X SUV. Both of these SUV's are part of the new Fiat-Chrysler crossover line, which is going to be sold worldwide. Concept version of Jeep Renegade 2015 debuted on 2014 Geneva Motor Show, and since then there are a lot of rumors circling around about it. Some rumors are speculating which Jeep vehicle is going to be replaced by the new Jeep Renegade; some of the prime candidates are Jeep Patriot and Jeep Compass, both of which featured decreased sales in last few years.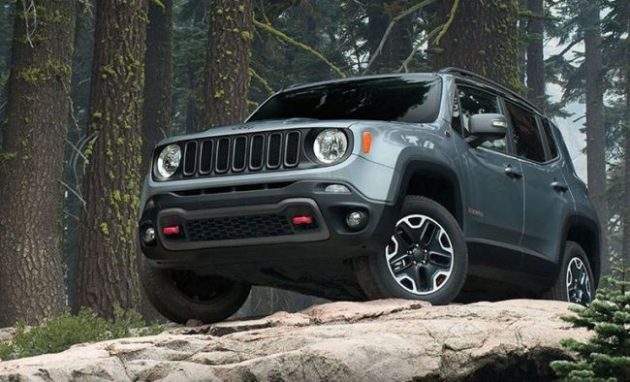 2015 Jeep Renegade Exterior
While designing 2015 Jeep Renegade, designers faced a tough challenge in trying to combine standard robust look of other Jeep vehicles with cute Italian rounded small car exterior. They were totally up to their task and the crossover vehicle they made will definitely enter the exterior design text books. All the essential features of Jeep design are incorporated in small, but functional Fiat 500L chassis, which offers much lighter weight, and therefore higher fuel efficiency.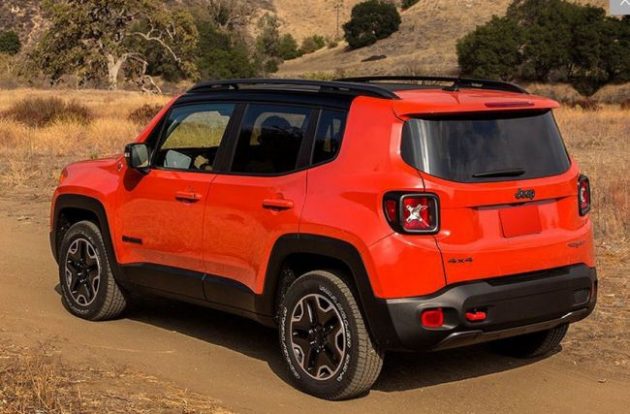 Interior of new Jeep Renegade
2015 Jeep Renegade interior also has superb design. Black tones are dominant, with red contrast stitching and upholstery and door trim made out of quality materials. There is enough leg and head space in front and back seats. Seats are relatively comfortable and there is plenty of cargo space, although everyone thought this is might be a flaw of this weird crossover. 12,7 cubic feet of cargo area, plus additional 18 cubic feet if the back bench is folded is more then enough cargo space, even for families going on vacation. One of the best features of Renegade's interior is its My Sky roof made out of removable fiberglass panels, that make this vehicle almost like convertible in hot summer months. From hi tech Renegade has two touchscreen displays, one is 6,5 inches and it is placed on the dashboard and the other is a seven inch TFT display on instrument cluster.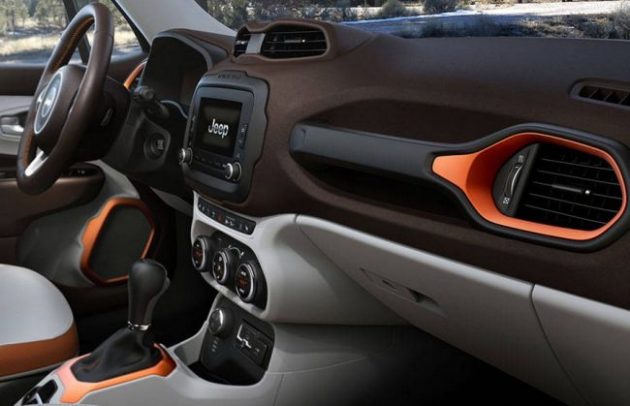 Jeep Renegade 2015 Specs and Price
Renegade has vast number of performance options. There is 16 different engine variants for the whole worldwide production of this vehicle. On the American market it will be possible to buy Jeep Renegade with is 1.4-liter, turbocharged four-cylinder or 2.4-liter Tiger-shark four-cylinder engine. First one is the same engine that comes with Fiat 500L. It can deliver 160 horsepower and 149 pound feet of torque. It will come paired with 6 speed manual transmission and maybe even four wheel drive system. Second engine can deliver 184 horsepower and 177 pt ft of torque, paired with nine speed automatic transmissions and front or all wheel drive.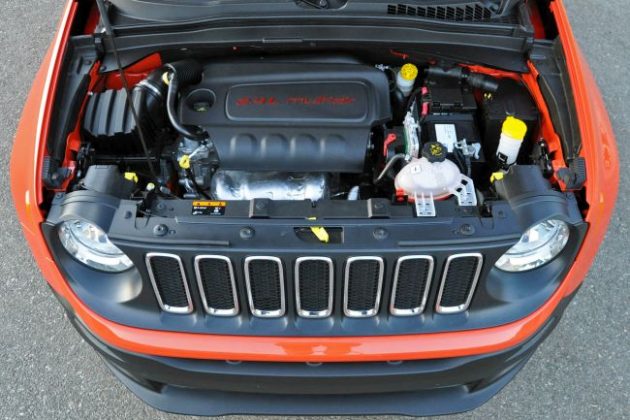 Price of the new Renegade is unknown until this day. We can only speculate that the new Jeep model will be placed in between the price of its two main rivals, Nissan Juke and Kia Soul. Kia Soul can be bought for $15,700 and Juke for $20,000, so the price of Renegade will probably be somewhere in between those two. Release date is still unknown. We will have more information during summer and fall of 2014, and we expect 2015 Jeep Renegade to be sent to dealer shops in the beginning of 2015.
More info on official site: