The Bronco is one of the original SUVs but the name has been abandoned by Ford a while ago. After two years of rumors they finally confirmed that the Bronco is going to return. There isn't much official information about the car but it seems it will remain a body-on-frame SUV. This will allow the Bronco to excel in off-road while also maintaining the ruggedness that is highly sought after in its class. It seems that the SUV will be released with the 2020 Ford Bronco and so far it looks like it will share quite a few parts with the upcoming Ranger.
Ford said a while ago that the Bronco will be an overbuilt SUV thanks to its close relationship with the Ranger. This likely means that it will receive the same frame and possibly a very similar suspension setup. While we do not expect leaf springs, the live rear axle together with the independent front setup are likely going to be seen on the production model. Even though this means that it won't be perfect on the road, in off-road the Bronco should be at least as good as the competition. According to Writemyessay.today, essays about new cars are quite popular, so don't hesitate to order yours today!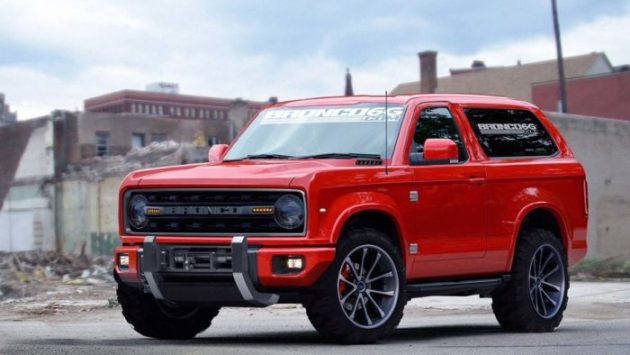 2020 Ford Bronco Price & Release date
The price hasn't been revealed but it seems the 4-door version could cost around $31,000. A 2-door model is still a possibility and if Ford decides to release it then expect it to cost right around $26,000.
At this price you are probably eager same as us to buy one. But, also just like we, you will have to wait for the first vehicles to exit Ford facilities. And, it will be a prolonged wait. The Detroit-based company is going to release first models in the late 2019. They will be sold as 2020 MY. Until first units hit the dealerships all eyes will be on Blue Oval's Michigan Assembly Plant in Wayne, Michigan.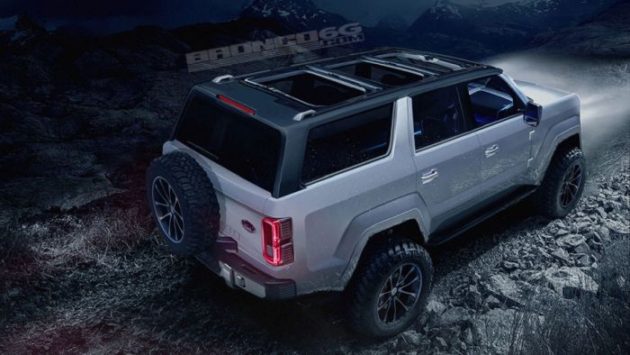 Exterior Design
The 2020 Ford Bronco wouldn't be the first Ranger-based SUV. A few years back Ford released the Territory in Australia which boasts the same chassis and running gear as the truck. However, that SUV offers a modern look while the Bronco is likely going to feature a modern-classic appeal similar to that of its main rival. In the front it may boast round headlights, an upright grille as well as an off-road inspired bumper. The 4-door version is unlikely going to receive a removable roof. However, the 2-door model could get at least a partial canvas roof in which case it would be rather impressive.
2020 Bronco Interior – Inside the cabin
Because the Bronco will be closely related to the Ranger, we expect the two cars to get a very similar interior. The dashboard, instrument cluster, most of the features as well as the seating layout are likely going to be identical between them. However, the Bronco will offer considerably more trunk space while a 7-seats version could be a real possibility. The materials are also likely going to differ between them with the Bronco receiving more rugged upholstery and plastics in order to better withstand the abuse.
Under the hood – 2020 Ford Bronco Specs
Here the 2020 Ford Bronco is likely going to boast more than just one engine choice. The base model is expected to use a 2.0 or 2.3 liter EcoBoost inline 4 offering over 250 horsepower and 270 lb-ft of torque. Higher up the range the car is likely going to receive one of Ford's twin-turbo V6. This engine could provide anything between 310 and up to 400 horsepower as well as north of 370 lb-ft of torque. A 6 speed manual is likely going to be available on the lower end trim levels. All Broncos will more than likely come with four wheel drive as standard while Ford could offer things such as lockable differentials as optional extras.
Even though still a rumor, a diesel is a real possibility. Ford could decide to offer their new 3.0 liter turbocharged V6. This engine is likely going to be capable of over 240 horsepower and 400 lb-ft of torque which would make it perfect for an off-road aimed SUV. Unlike the others, this particular engine is expected to be available only alongside Ford's new 10 speed automatic.