A lot has been said about the upcoming 2019 Lexus RC F and now we have this vehicle caught testing at the Nürburgring covered in camo. As far as we can see it under all this camo there have been some slight changes to the 2019 MY and this just shows us that this is basically a prototype for this facelifted luxury performance coupe.
Changes
Those of you who do not know this RC F is a performance-oriented version of the regular RC model. It is fairly fresh vehicle with the RC model coming out in 2014 and the RC F came out for 2015 which means that not a lot of changes are to be expected. As far as we spotted some of the new elements that it will boast are the front lip spoiler, revised shape for the front intakes, and rear bumper diffuser inserts. Some latest info that regards the 2019 Lexus RC F suggest that this Japanese automaker is in a very early stage of development an even more performance oriented version of this model and it will be done in association with Gazoo Racing motor sport department.
2019 Lexus RC F specs
This performance oriented vehicle has a pretty decent performance which it can offer when you need it, despite it being slightly on the heavy side with its 3,958 pounds (close to the weight of the AWD Audi RS 5). The only vehicle in this class that is heavier than the RC F is the Mercedes-AMG's C63 Coupe which, unfortunately for the RC F, has a lot more torque to it. As far as the engine of the 2019 Lexus RC F is considered, nothing new emerged. Some believe that it will retain the previous model's 5.0 L V8 that offers 467 HP and 389 pound-feet of torque, while other believe that somewhat powerful variant might be added. Since the details are currently scarce we will restrain from guessing. The former RC-F model came with an 8 speed Sport Direct Shift automatic transmission and we believe that a slightly updated version of it might find its way to the 2019 model year.
Release date and specs
As far as the release date and pricing goes, without much info we can not specify anything to the detail, but you can expect the 2019 Lexus RC F to debut sometime mid or end 2018 and it will come out as a 2019 model. As far as pricing is of concern, we believe that it will not change much since not a lot will be done to the facelifted 2019 RC F, and it might start from around $62,500 and go up depending on the equipment you choose.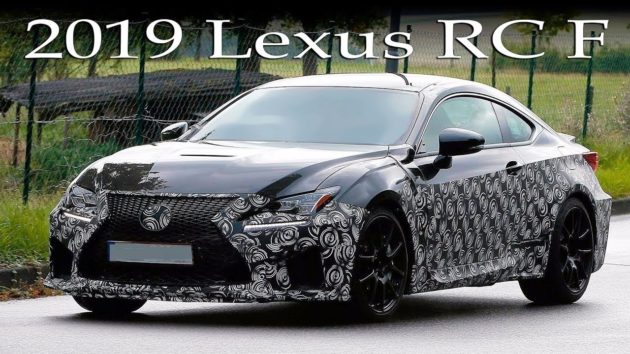 Read more on this site. http://www.motorauthority.com/news/1112651_2019-lexus-rc-f-spy-shots
Be sociable, share!